Two-for-One Twister Machine Bobbin
- Goedkeuring van hoogwaardige lichte legering en gekenmerkt
structuur, zorgt voor hoge sterkte
- Nauwkeurige verwerking en dynamisch gebalanceerd.
Geschikt voor hardlopen bij max. 14000 tpm maar minder
lawaai en minder trillingen
- Gecombineerd met zachte fenolische flens, helpt
verminder het stroomverbruik tot 20%
- Flens gepolijst om gloeidraad open of breuk te verminderen
- Speciale oppervlaktebehandeling op verzoek van de klant
- Spoel voor stomen is beschikbaar
- Groef voor verwijdering van garenafval
Toepassing:
- Industrieel naaigaren
- Visnettouw
- Typecord
- HDPE en PP touw
- Glasvezel
Voor welke machine:
- Machine voor verdubbelen en draaien:
Lezzeni Mario, Allma, Galan
- Enkele of dubbele dekkingsmachine:
Menegatto, SSM
- Tfo draaiende machine:
RPR, ICBT, RATTI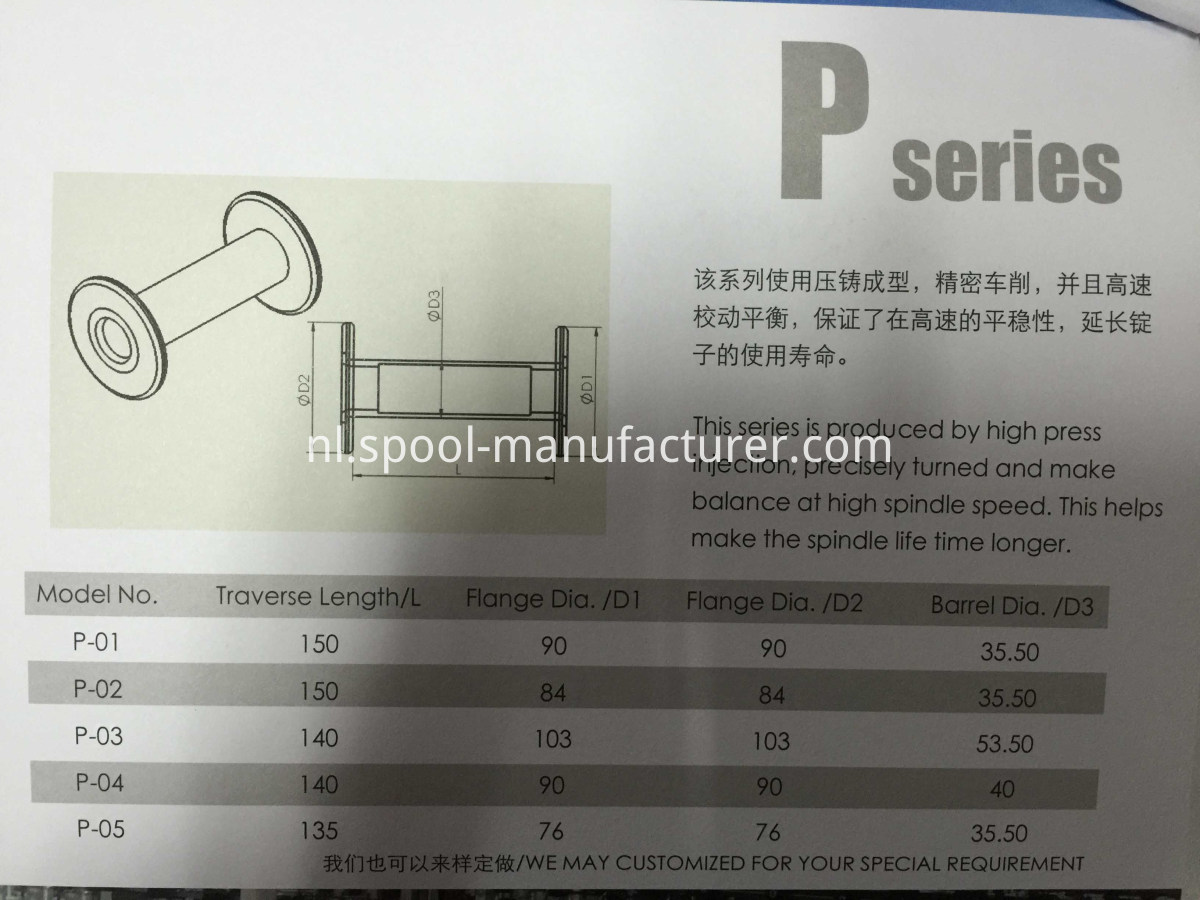 ONEREEL is gespecialiseerd in het ontwerpen en produceren van draadspoelen, plastic spoelen, stalen kabelspoelen, stalen spoel, kettingbreiknopen, lege spoelen, kabelspoelen, stalen kabelspoel, stalen kabelspoel, kabeltrekaanhangwagen, hydraulische trommelaanhangwagen, kabelgrijper in de industrie sinds 1991.
Al onze klantenspoelen en draaddragers zijn ontworpen en vervaardigd in onze 120.000 vierkante meter ultramoderne fabriek in Ningbo, Zhejiang.
Product Categorie : Aluminium spoel